This is my first real post! How exciting. (: Have been wanting to make a fashion blog for soo long and finally teamed up with Elaine to get it done!
First, let's start out with my outfit from yesterday. You can kind of see it a little in the YouTube video on the side bar [hehe, it's a stopmotion!], but here are some pictures. You can click on them to enlarge them, if you so desire.
black star asymmetrical top = urban outfitters $10
YNQ jean shorts = ross $15?
red converse high-tops = present from a friend
belt = dad's from china
necklace = mom's from china

Check out all my lovely [or horrible, which is my opinion] artwork in the background!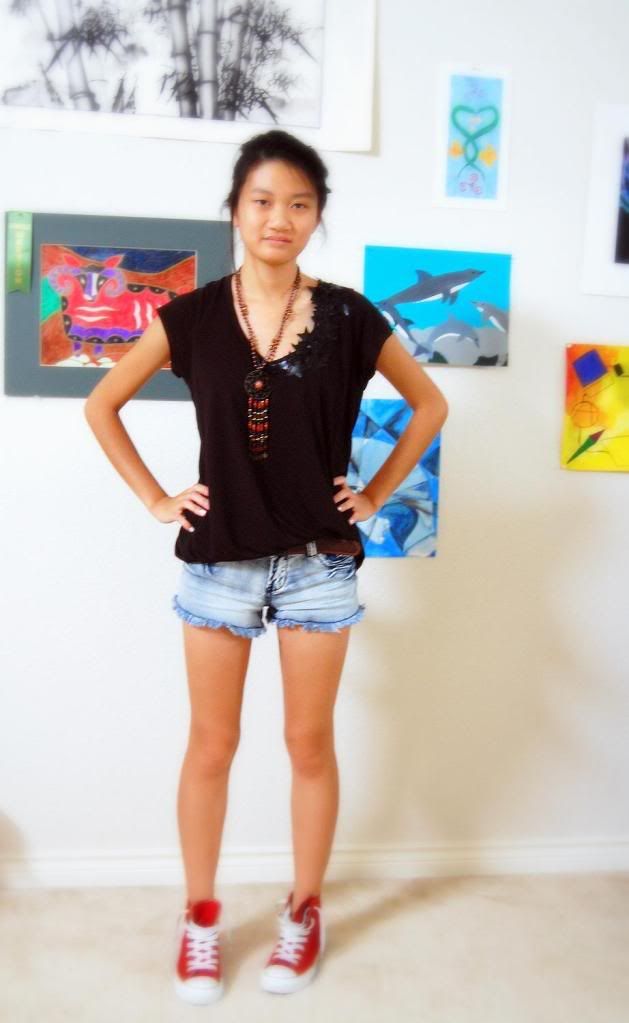 Me being silly... or normal. This is one of my usual picture poses.

This is where all the magic happens [aka, in my room, or you may call it by its alias, the Threadsetters Headquarters]. Cutting a shirt for elaine & editing our YouTube intro movie.

On Windows Movie Maker, resizing the time slot for each picture. It looks so cool, like a panorama.

There is so much I am so excited to blog about. A tribute to Michael Jackson's crazy but classic fashion trends [=(] and how they've influenced the runway and elsewhere, Emma Watson's spread in the August TeenVogue magazine, etc. Keep an eye out for more later!