Doc Martens [AKA "combat boots"?] were waaay big in the '70s and '80s, and I used to see them around on the "punk rock princess" photographs, but recently, I've seen them resurfacing everywhere. First, on Lookbook.nu, and then in TeenVogue, and now on my fav Korean stars [I think my self-imposed kpop ban has gone on long enough... LOL, I dunno, I'll try to talk about them at a minimum and branch out my post topics]. They're definitely making their comeback.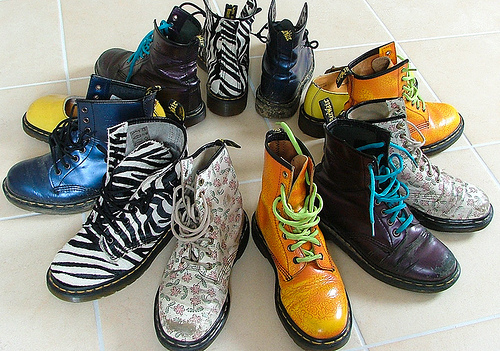 Image credit: Zorglubs
I'm on Wikipedia right now, reading about Docs, and their history is kind of interesting.
Klaus Märtens was a doctor in the German army during World War II. While on leave in 1945, he injured his ankle while skiing in the Bavarian Alps. He found that his standard-issue army boots were too uncomfortable on his injured foot. While recuperating, he designed improvements to the boots, with soft leather, and air-padded soles. When the war ended and some Germans looted valuables from their own cities, Maertens took leather from a cobbler's shop. With that leather he made himself a pair of boots with air-cushioned soles.

Märtens didn't have much luck selling his shoes until he met up with an old university friend, Dr. Herbert Funck, in Munich in 1947. Funck was intrigued by the new shoe design, and the two went into business that year in Seeshaupt, Germany, using discarded rubber from Luftwaffe airfields. The comfortable and durable soles were a big hit with housewives, with 80% of sales in the first decade going to women over the age of 40.

[I find this interesting.]



Sales had grown so much by 1952 that they opened a factory in Munich. In 1959, the company had grown large enough that Märtens and Funck looked at marketing the footwear internationally. Almost immediately, British shoe manufacturer R. Griggs Group Ltd. bought patent rights to manufacture the shoes in the United Kingdom. Griggs anglicized the name, slightly re-shaped the heel to make them fit better, added the trademark yellow stitching, and trademarked the soles as AirWair.

The first Dr. Martens boots in the United Kingdom came out on April 1, 1960 (hence known as style 1460 and still in production today) with an eight-eyelet, cherry-red, Nappa leather design. Originally Dr. Martens were made by a number of shoe manufacturers in the Northamptonshire area, as long as they passed quality standards. They were popular among workers such as postmen, police officers and factory workers. By the late 1960s, skinheads started wearing Dr. Martens boots. By the late 1970s, Dr. Martens boots were popular among some British punk rock and New Wave musicians, and soon many punk fans were wearing them. The boots and shoes then became popular among other youth subcultures.
Doctor Klaus Marten + Herbert (Funck=funk=funky?) = Santa Claus wears Doc Martens to get funky? Yes. [It's 4AM. That should explain my weird thought process, right? x___x]
Okay, it's really almost 4:30 AM now and i am feeling lazy and only a little sleepy but i think it would be in my best interests to go to sleep now. I just searched on lookbook and there are soooo many pictures with Docs so i will pick some i like and put them in this entry, along with my kpop boys. but, tomorrow. or. in 6 hours. .. yeah. i'll edit this later.
~~~~~~~~~~~
Okay, I'm back. It's 3:30PM. Only took me about 12 hours to get back in the mood to blog about the Docs. I got distracted by some fashion blogs. Sigh. Anyways, here we go!
The Lookbook.nu beauties rocking the Docs. SOO many choices; hard decision to choose just a few. I think I really like Docs when they are worn as a splash of color.
In order [Top to bottom, L-R]: Solène Millon; Loreley Omekiahuitl | Cookies Absinthe; Adeline Rapon | Tokyobanhbao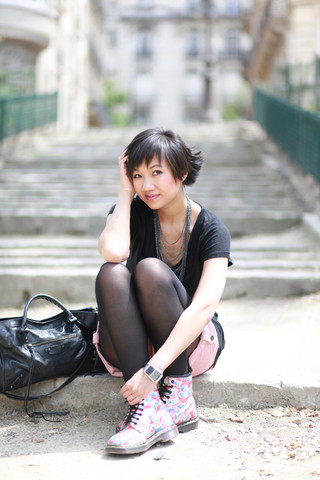 In the Augst 2009 issue of TeenVogue [AKA the Emma Watson issue], there's a spread called Reality Check on "cool button-downs, grunge-chic kicks, and oversized bookbags." Okay, but the only thing I really noticed were the "grunge-chic kicks" -- the Docs! [Btw, after looking through some of my old TeenVogue mags, I found some spreads I really want to share -- especially one on military style jackets! Have I talked that subject to death yet? Yeah, I think so...]
Also, in the same issue of TeenVogue, their "Index Checklist" features Docs, as well as other chunky boots, as seen on models.
Agyness Dyen | Freja Beha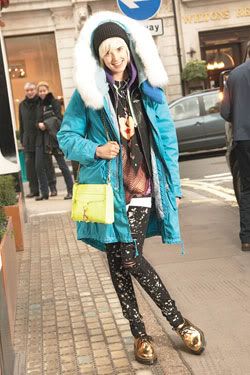 Image credit: TeenVogue.com
Oh, but that's not all! I even spotted them on my favorite Korean boys.
So, what do you guys think of Doc Martens? Love them, hate 'em, don't really care? I don't know what I think of them. Sometimes they look really good and really fitting, and sometimes they just weren't meant to be. But I would really like to try a pair on to see if they really are as comfortable as the Wikipedia article says they are. Also, if you would like to buy a pair, they are $100+ [too pricey for me =\] and I'm sure you could find tons of different colors and prints and styles to match your personality (: Official Store Website
BTW, I have decided what to do about my constant posting about Kpop. At the end of every month, I will have a post where all I do is talk about Kpop fashion. If I talk about other topics [such as this post aboutDoc Martens] and Kpop is applicable, then I will use it too. But I really don't want to talk about it TOO much so I'm trying to limit myself. I'm trying to find other topics to talk about. I think my next post is going to feature some stores that are good for guys? Devin is inspiring me because of his difficulty of finding good men's stores, sooo yup.