First of all, happy birthday to America!
Second of all, the topic of my post today... ZIPPERS! Did you examine yours? Good. Because you never know where it'll end up -- they're now all over clothing, accessories, shoes, etc. [I know that was lame, sorry x__x]
I remember the first time I saw zipper accents on clothes, it was on Season 3 of Project Runway in Jeffrey Sebelia's collection at Olympus Fashion Week. The only reason I remember the zippers so fondly is because Tim Gunn really admired them. [There were also some gold zippers on the bags Sebelia made but they're not pictured.]
They're kind of hard to see, but the gold detailing is zippers.
Then, next, zippers appeared in 3.1 Phillip Lim's Spring 2009 Collection. [I am also in love with the ruffled heels in the first picture.]

Once again, gold detailing = zippers.
Btw, look at this homemade, Phillip Lim-inspired zipper dress! She had a friend make it for her. Wow, wish I had the talent to make this!
Michelle from lookbook.nu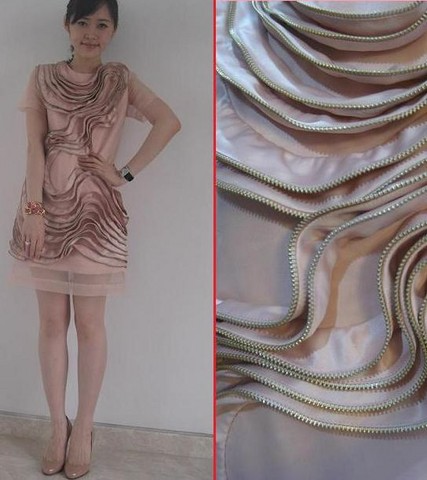 Now, here are some things you can get, zipper-accented and all, at an affordable price! [Finally, we're featuring some things you CAN get for a much lower price.] Click on product names to be linked to its product page, where you can buy it online.
First, some accessories from Urban Outfitters.
Deux Lux Zipper Rosette Coin Purse $14.99
(Comes in Black as well)
[Actually, if you go to a UO store, they were having a "yard sale" where basically everything was on sale and this coin purse was only $5 (or was it$10??)!! I regret not buying it. I don't know if the sale is still going on though; hopefully it is!]
Deena & Ozzy Zipper Clutch $19.99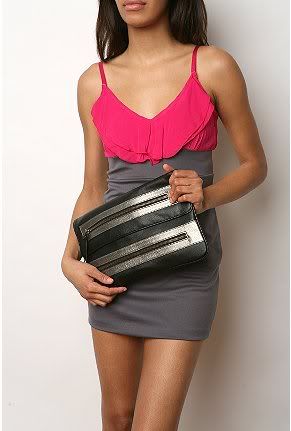 Now, this is what sparked my interest in posting this entry. I'm following Forever 21 on Twitter, and a few days ago, they updated saying, "Ladies in the office swooning over this fierce number today: http://tinyurl.com/muez2g What do you think?" Leading me to find this...

Zipper Trim Tube Dress $22.80
[So cute, and SO affordable. Definitely want one for myself hahaha.]
Photo credits: rickey.org, style.com